I suppose one question I'll have to ask is.. how committed are you to playing penhold? How did you start? Do your friends play penhold? Do you have someone showing you how to handle the backhand strokes? That's probably the fiddliest part to learn. You probably know this already but I think I should mention it because you might not. Until this last 10-15 years or so penholders only used one side of the racket - the backhand was taken with the same side of the racket as the forehand, and so rackets usually only had one sheet of rubber on them. This makes the racket a lot lighter, and easier to handle. This "single side" style also meant that the advantage of the penhold grip was the middle - there was no transition from the forehand to the backhand in the middle. Penholders excelled at blocking in the middle.
The more modern players who use a second sheet of rubber on the blade are using what they call a "reverse penhold backhand" - this is an entirely new stroke, and is usually used for drives and loops on the backhand. These players are also completely capable of doing the old style penhold backhand as well - you still need that old style backhand for blocks and pushes. Most penhold players I know DON'T use this reverse backhand, because they learned to play a long time ago and switching to it is supposedly fairly difficult.
So unless you're committed to using the reverse backhand I'd suggest trying a bat with a single sheet of rubber on it first. It'll at least be lighter and easier to handle. I suspect you're simply using a shakehands blade which you hold penhold-style, I'd say try a real penhold blade with one sheet of rubber on it first.
Get one from China. You can easily get a good blade and a sheet of rubber for under $25 including shipping. See how it plays, see if you can use the traditional penhold backhand with this lighter racket. And then if you want to pursue the reverse penhold, stick another $5 sheet of rubber on the back.
OK, now, which blade. There are these things called "Japanese Penhold" blades. Big cork handle, rectangular blade. These are in general fairly heavy, and designed to be used with one sheet of rubber. Here is an example:
http://www.aliexpress.com/store/product ... 04458.html
You COULD get one of these but I don't suggest it.
There are HUNDREDS of shakehands blades in that AliExpress store, you could go crazy looking through them. MOST of these are available in Chinese Penhold style (read the blurb) - a shorter handle, sometimes the blade is shaped differently, the penhold handle often ends above where the shakehands handle does. Here's an example of what one might look like (there are a very few Chinese-penhold-only blades for sale in this store, this is one of them):
A picture with both a shakehands and the corresponding Chinese Penhold blade: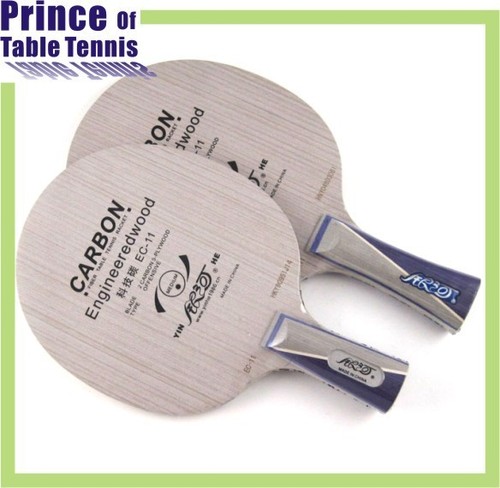 As for a specific recommendation, those who know me know why I recommend this blade:
http://www.aliexpress.com/item/Free-Shi ... 30858.html

Make sure you ask for the penhold version. Yes, there are other blades that might be better, but I like this blade (in shakehands form) more than any of the others I've tried, including many that cost several times as much.
Rubber? This would work as well as anything might:
http://www.aliexpress.com/store/product ... 54641.html
or this one:
http://www.aliexpress.com/store/product ... 20558.html
(This is more complicated - you actually have to choose the sponge thickness. I'd suggest 2.0 or 2.2mm.)
(Problem with these cheap sheets - you have to buy a minimum of two sheets.)
So your total cost is under $23 including postage. And - important. Ask them to glue ONE sheet of rubber onto the blade for you, on the forehand side (usually the side with the printing). Gluing rubber on a penhold blade is NOT like gluing rubber on a shakehands blade, there's a gap of about 15-20mm between the handle and the bottom of the rubber sheet. The shop should know how to do it.
See here:
viewtopic.php?f=9&t=26852&p=285695
Iskandar