I was wondering if anyone here has played with it?

I was able to play with friend's Iolite today, and was really impressed with the catapult effect. Much more than the Photino. Since the Iolite is a bit hard to find -- I might as well get the Iolite Neo for the thicker handle.
---
Review/Impressions: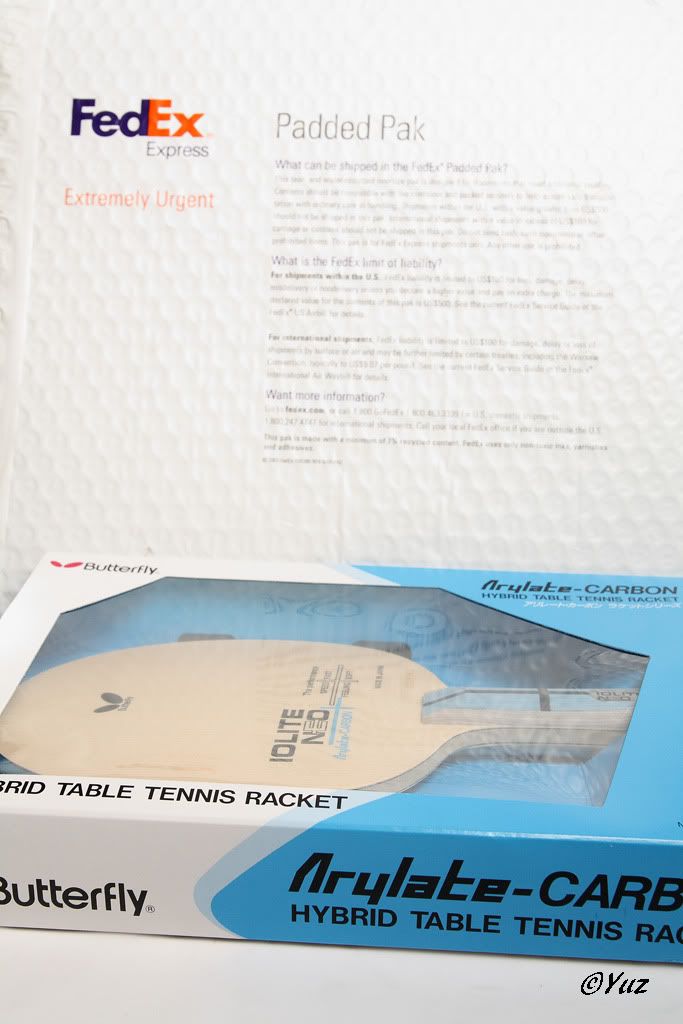 The classic Iolite is a well-regarded as a solid-feeling, fast, 5-ply blade, much like the Viscaria. The Iolite Neo is said to be a design update for the post-glue era,
increasing the speed of the blade by increasing the thickness of the plies; the core perhaps?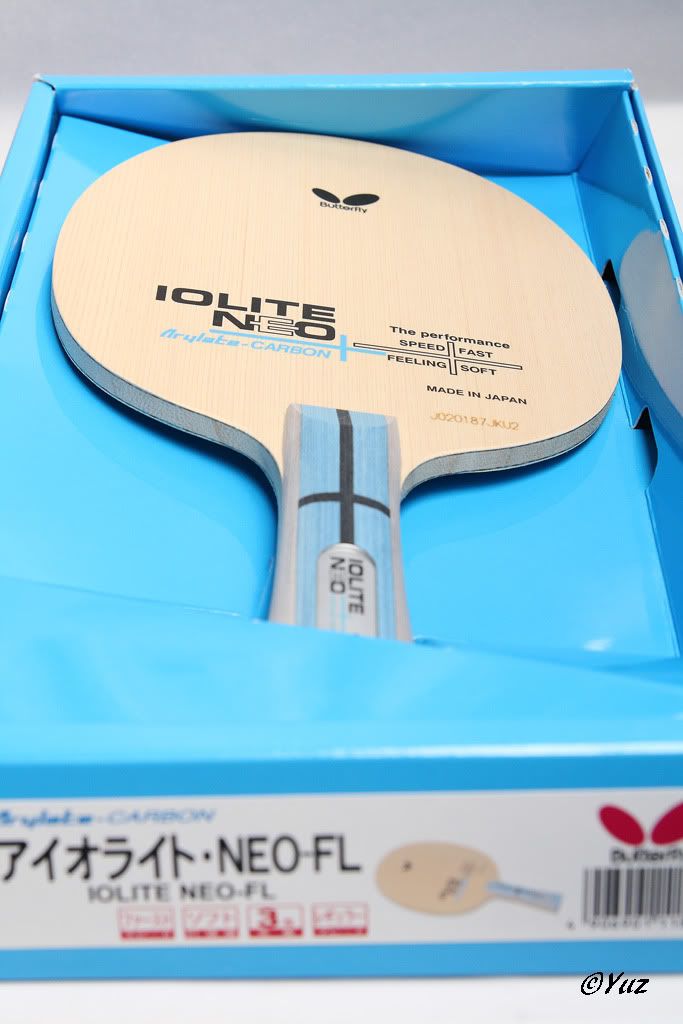 Right out of the package, the Iolite Neo is a handsome blade. The finish is typical Butterfly Japan standard, and the blade throat is smooth and shaved from the factory.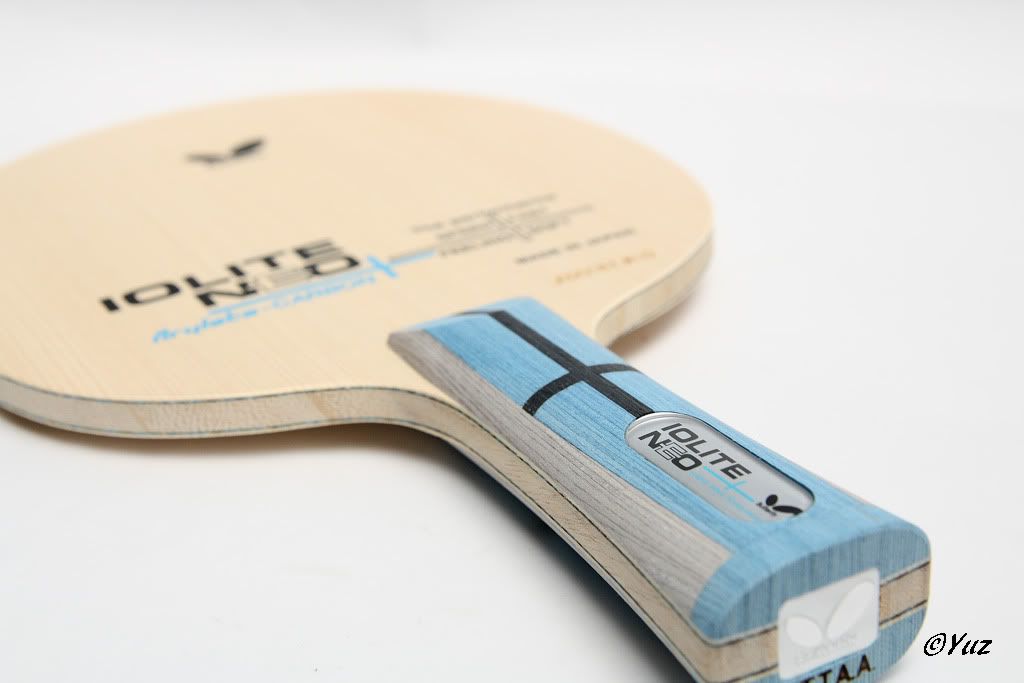 I personally prefer a slightly boxy handle, much like the old Butterfly ST handles and the Xiom current straight handles. However, the FL handle is similar to the new Butterfly
products, so it's a little thicker. Cheers to those who had to do something to beef up the old Viscaria/Iolite/Korbel FL handles. The handle comes in a...baby blue color.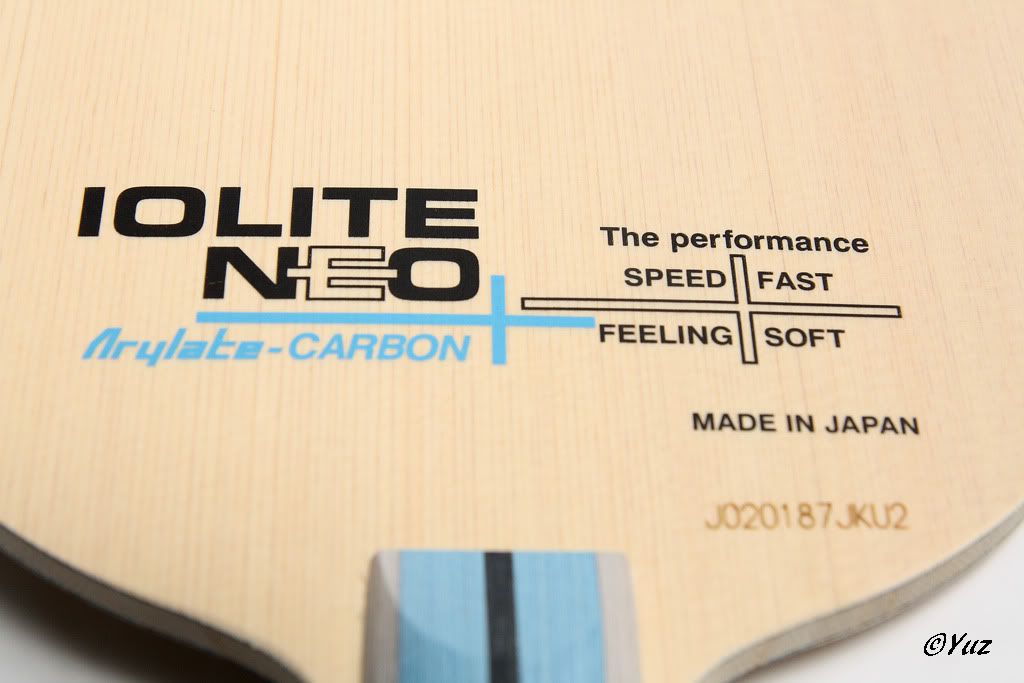 At first take, the Iolite Neo is incredibly similar to the original Iolite, only given a bigger handle. Perhaps a tad faster than the original. They preserved the thick-core,
solid feeling of the Iolite. That is, a mild ball feeling on the short game coupled with a strong ball rebound/catapult. One recalls this particular set of characteristics
in the Butterfly Amultart.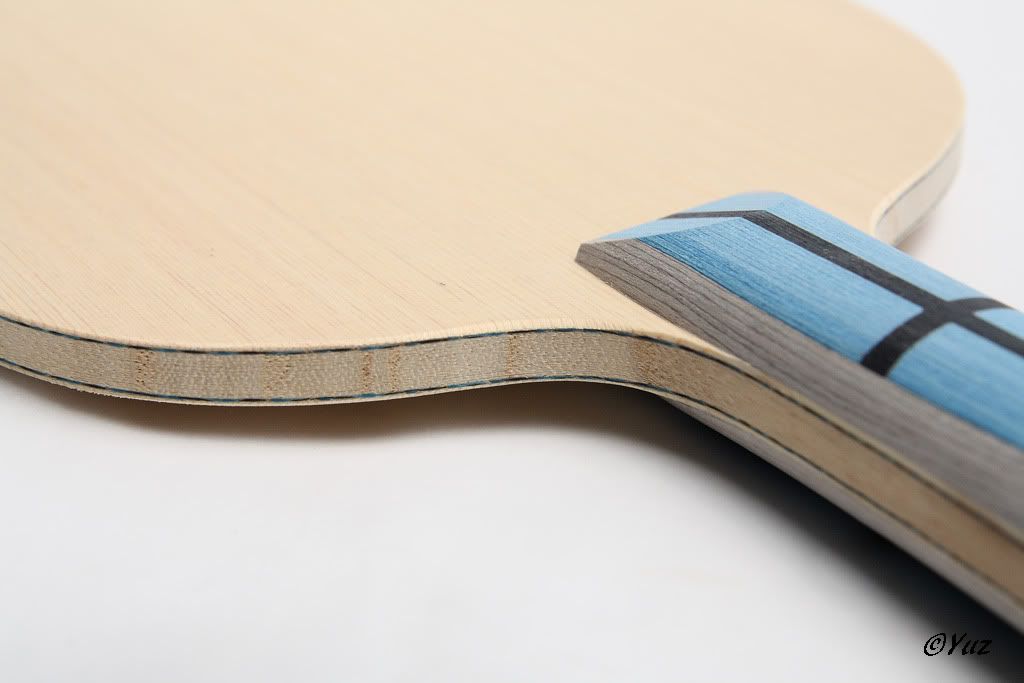 The hinoki top ply is about 1mm thick. Second layer is Arylate-Carbon. The core wood, which looks like kiri, is about 5.2mm thick.
In contrast, the Photino, and perhaps the Amultart as well, both have hinoki top plies of about 1.4mm and core woods of about 4mm.
Perhaps these may account for the significant increase in rebound and a decrease in dwell time.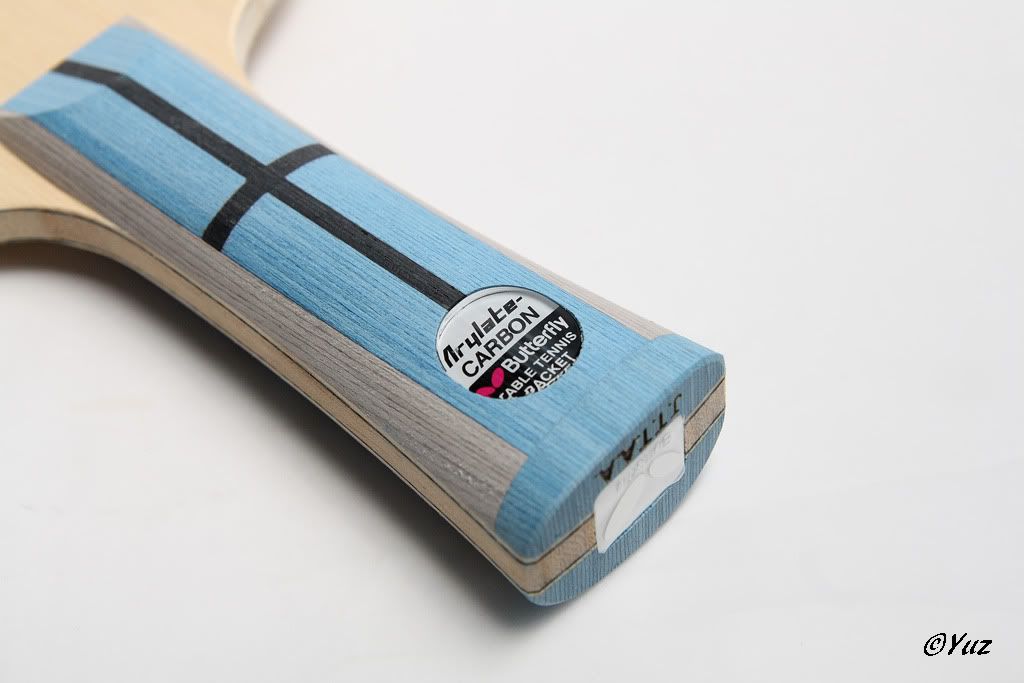 Describing the blade, it is:
a 5-ply composite blade.
Specimen is about 7.4422mm thick. Nearly nominal.
Specimen has a mass of 87g. +4g on the listed nominal weight.
Very small handle problem of the original Iolite/Viscaria family may have been resolved, has similar fit as the new Butterfly handles FL and SI (means bigger).
Relatively excellent dwell time for the amount of rebound. Matches well with Japanese rubbers, especially the new heavier ones when you get a light blade.
Butterfly.co.jp
lists the Iolite Neo as:
fast speed
soft feeling
head size of 157mmx150mm
typical mass of 83g
7.5mm thickness typical
I would say it is an excellent blade for doing a power-spin game with directional control. Rather excellent feel with Tenergy, a good match for spin to control
the potential speed of the blade.
I'm now waiting for Spinart to hit our shores to try it on this...exciting blade.
_________________
Viscaria. H2 Neo 2.15. Tenergy 05 1.9.