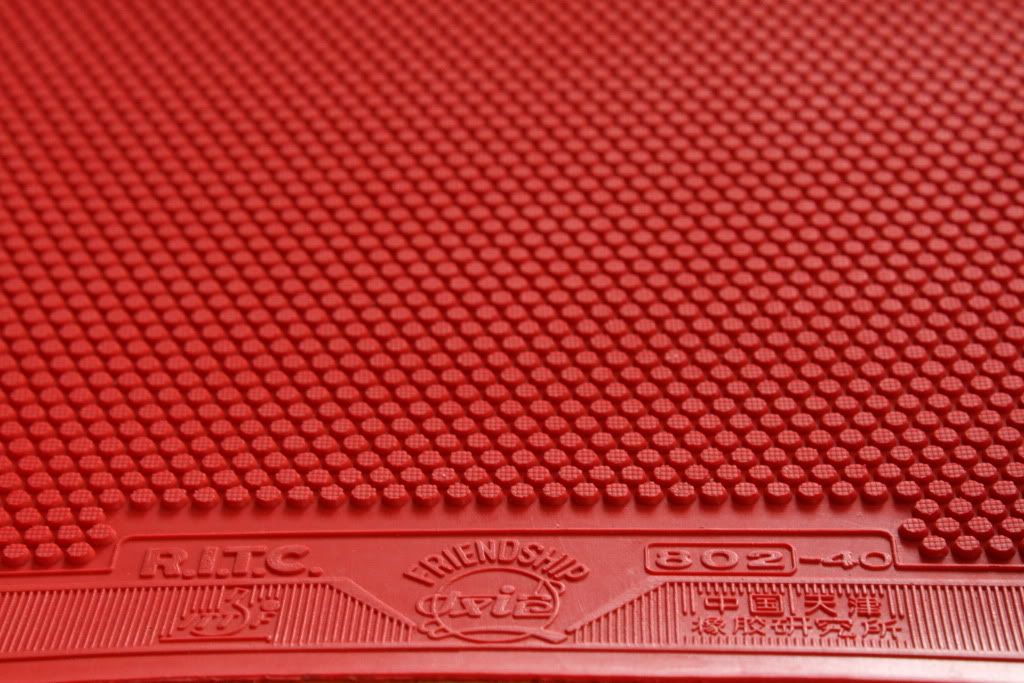 Friendship/RITC/729
(packet) says:
High Speed. Supports Aggressive Style. Special 35deg Pro Sponge. Powerful Conical Shaped Pips.
Give your opponent no opportunity to play their game. 802-40 gives the ability to attack pushes and service that traditional rubbers cannot. Maximize your attack off the bounce. Crush your opponents "best shots".
1.
The reviewer:
Intermediate level, inverted FH, short pips BH. Loop/hit. Only ten months worth of SP play. Played 802-40 on an Avalox P700.
2.
Physical Properties:
Red, 2.3mm custom Dawei soft sponge, 30 degrees. Grippy, textured, and wide pip surface. The red color is a bit pale.
3.
Speed:
- Speed on slow strokes: low-medium
- Speed on power loops: medium/medium-fast
- Speed on power drives/smashes: medium-fast/fast
4.
Spin:
- Spin on a loop: not as much as inverted, but certainly more than enough to cause errors for the unwary. Can be thought of as being able to loop near table.
- Spin on serves/pushes: excellent for a short pip. Especially when using a high toss serve.
5.
Control:
being soft sponged, ball feel is good, especially paired up with a harder blade. Taking off pace is OK, the soft sponge helps. Control over spin is a little more difficult than traditional hard short pips, as the topsheet is quite grippy and the sponge delaying the ball rebound. Speed goes up linearly with the use of the sponge.
6.
Other Playing properties:
Throw angle is medium, with respect to Butterfly Raystorm (high) and RITC 799/DHS 652 (low-medium). Just a bit higher than RITC 802, TSP Spectol, and Tyranno (medium). A notch or three higher than RITC 563 (low). The overall feel of rubber is soft, yet crisp on hits. Plays similar to some inverted rubbers.
Because of the topsheet and sponge, balls blocked and hit with 802-40 tend to have quite a bit of spin similar to inverted. The pips scrub off some spin, but usually not enough to force errors. Repetitive blocking could catch the unwary looper, however. Hitting through high loops is relatively easy as the pips allow one to use the incoming topspin well, instead of being 'tricky' and giving back underspin after a hard hit.
7.
Reference:
RITC (802, 799, 563, Dr. Evil), Butterfly (Raystorm, Impartial, Challenger Attack), TSP (Spectol, Tyranno)
8.
Other comments:
"It's like playing with (inverted) rubber!". Not tricky. The manufacturer sponge (35deg. Reactor soft sponge, not the Dawei soft sponge used by the reviewer) is just a tad harder than the Dawei soft sponge, and is more resilient/springy, therefore, makes 802-40 a bit faster than mentioned in the review, but the characteristics remain similar. It is also one of the most recommended short pip rubbers to inverted players wanting to play with short pips.
9.
Why buy?:
For one, it is very cheap with a good quality sponge. Power hitting/smashing with this is a bit easier than traditional short pips because of the grip -- easier to produce just enough topspin to make the ball land on the table, especially for shakehand players. People looking for a lower throw and grip than Raystorm, but would like to retain the soft rubber feeling, should try this rubber.
_________________
Viscaria. H2 Neo 2.15. Tenergy 05 1.9.