Korish wrote:
I have been using Ma Lin's thumb and index placement; much improved stability as you suggested!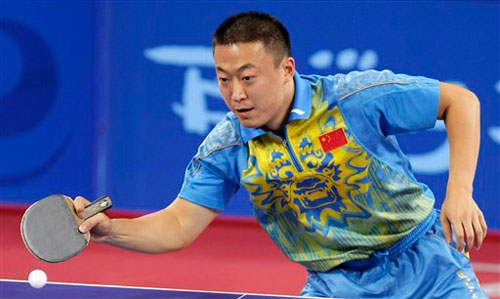 Couldn't find any high quality photos of his backhand fingers. I've noticed that if you bend the middle finger, it closes your blade more on the bh side and also allows you to use more of the wrist in rpb. If you straighten it, your bat angle opens more which allows for greater stability and ease of looping farther away from the table, but it restricts your wrist and flicks in the short game. What are your thoughts on this? Do you have the means to showcase your own grip? Thanks!
Here is a Ma Lin video tutorial. Unfortunately in Chinese but videos shows clearly how he grips both forehand and backhand.
https://v.qq.com/x/page/r0305jgvttz.html
Key note apart from the video is that everyone's hand is different and using blades of different thickness, handle width etc all need minor adjustments.
As for me, I'm learning just like you. Used to be a single sided penholder with curled grip favoring "wristy" snaps. Now with heavier, thicker 2-sided rackets, I'm inching more and more into "modern" style of deeper, choked down grips, extended fingers (slight curl, not quite straight) etc. I find RPB and forehand grips are complementary, but if you want to preserve TPB, you have to experiment alot to find compromises. Nowadays, given any choice, I tend to prefer stability over wristy.
BTW take my advice with a bag of salt. My RPB is mediocre at best and I'm only taking coaching about it over the past few months.