2nd)
#014 - Zebrano/Spruce/Spruce/Ayous
It is a 7 layer, 6.6mm, 95 grams all-wood (very) fast blade. I measured it at 1548 Hz.
This is my own design and it was inspired by my discussions with Lasta regarding a fast/hard/linear blade.
The idea that light-up into my mind was that a linear blade should be stiffened against all the vibration patterns that happen at impact, so less energy is dissipated via sound or residual vibrations. I remembered this picture here: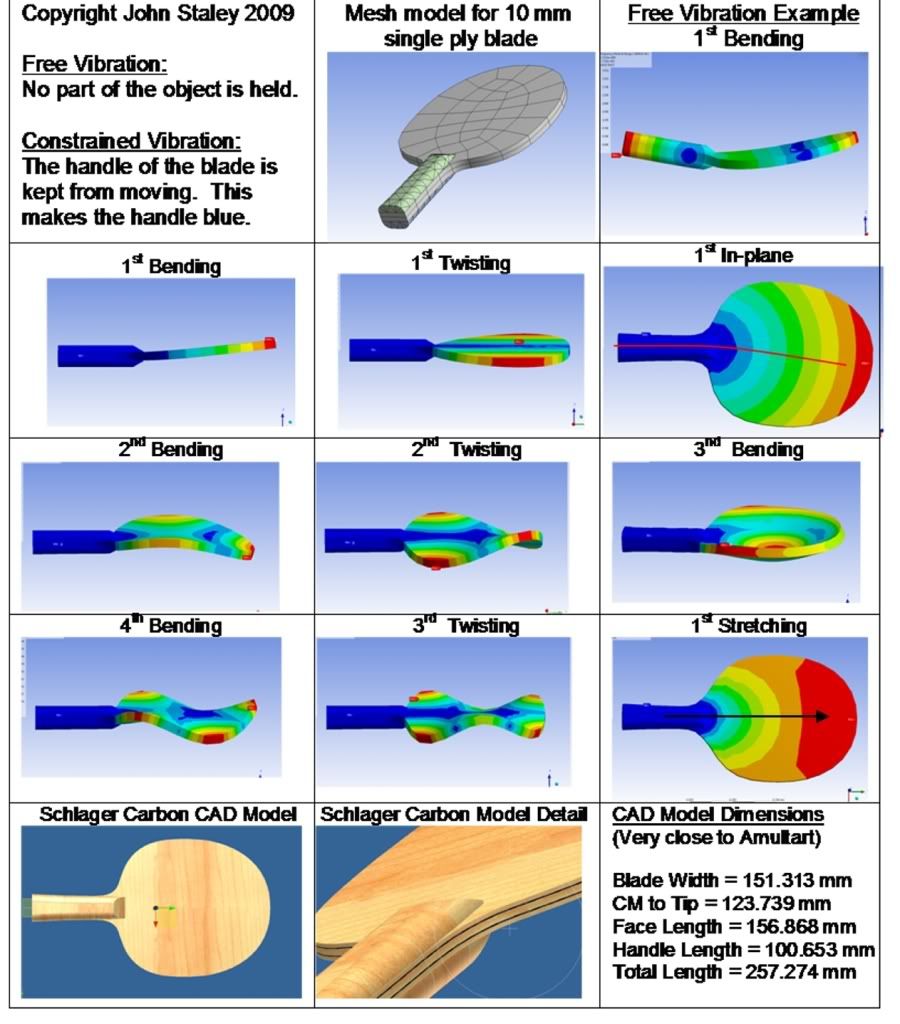 that shows there are a few ways a blade deforms at (high) impact. Bending, twisting and stretching, each with 3 levels.
So, placing wood (or composite) layers inside the blade only vertically/horizontally is theoretically not enough. The first path that I had was to search for some triaxial fiberglass or carbon fiber cloth, but it was allready very late December and shipping companies are already overheaded. So it was no reason to order and wait and I walked in the direction of doing 2 all wood prototypes. The first was the serial #014 mentioned here, the second was the #017 (that I will present a bit later this week, after I will be measure it and tested).
So, following the above idea inside this prototype the inner layers are glued in an helical pattern instead of a vertical/horizontal layup. Only the outer layers and the core are positioned vertically. The result is a fast-stiff blade with an unexpected big hotspot, but a bit tip heavy.
Here are the photos:
It was tested by two colleagues that are more advanced players than me. One is a tipically offensive player. He told me that this is close in speed to his Andro Ligna FR Off and the topspin goes easy and natural from the first shot. Also he was amazed by the way backspin goes out of it. He told me that if you cut it correctly, it goes perfect.
The other player, is a defensive player. He was also amazed by the easyness he could chop the ball and liked that it has a low throw. He disliked the weight and the speed. He would have liked it to be in the range of an ALL blade and 10-15 grams less.
After these 2, now it has an owner and I am curious what his feedback will be.
Now, my intention is to glue a second build for further testing of the design. Is there anyone here interested in testing a prototype?
(Keep in mind that this will be 90-95 grams heavy)